VIS organized Y2018 periodic health examination
Vietnam Italy Steel JSC has hold yearly health examination for its nearly 900 employees at both head office and branches periodically from 10th to 14th December, 2008.
With the view that employees are extremely valuable assets of the company, new BOD coming from Kyoei Steel Corporation have immediately implemented activities to improve working conditions, labor safety and health of employeesright after having been managed company directly in July 2018
As a heavy industrial manufactory, the periodic physical examination will help employees to understand their own health situation so as to quickly take preventive measures as well as timely treatment. In addition, this is also the basis for VIS leadership to assess the correlation between employees' health and working conditions, timely adjust the work in accordance with its employees' health status and applies a reasonable policy for better working conditions.
In the recently years, Vietnam Italy Steel JSC has selected Medlatec hospital to provide periodic health examination services to its employees. Medlatec is one of the prestigious hospitals with modern equipment and experienced doctors.
At the yearly health examination, all employees are provided with a full range of health examinations, including blood analysis, urine analysis, chest x-ray, abdominal ultrasound, measurement of bone density, blood glucose measurement, inner general examination, ear-nose-throat, teeth-jaw-facial, gynecological examination.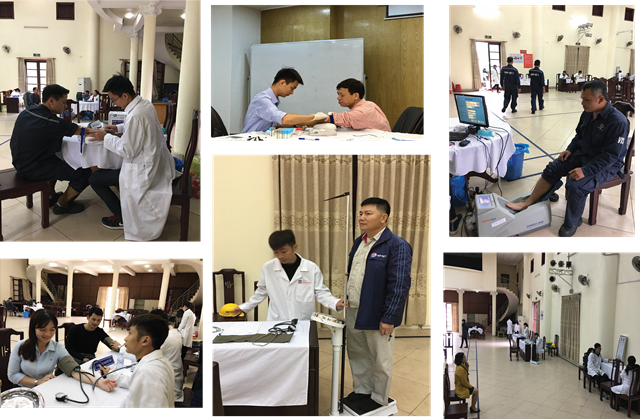 VIS Employee at Hưng Yên head Office are beeing examined health
BOD of Vietnam Italy Steel JSC always aims to develop both spirit and physical of its human resource in a comprehensive way and in many forms. Periodic health examination is one of health care activities maintained and improved year by year by Vietnam Italy Steel JSC. This activity also contributes to improve the performance of enterprises as well as the physical and mental of employees.
PR News