Colleagues love in difficulties
In the spirit of "The leaves protect tattered ones", VIS Trade Union has launched the support for the family of Mr.Pham Van Khoang - union member of Steel Rolling workshop. He unfortunately passed away because of the disease when he was so young. His family is poor. His Parents are both old farmers, 3 children are very small and wife is often suffer from sickness for a long time.
With the spirit of mutual support, all employees have enthusiastically participated in the program. Total support amount is 66 million VND. This amount is not much but every employee feels warm in sharing, supporting a small part for the loss and pain that his relatives are experiencing.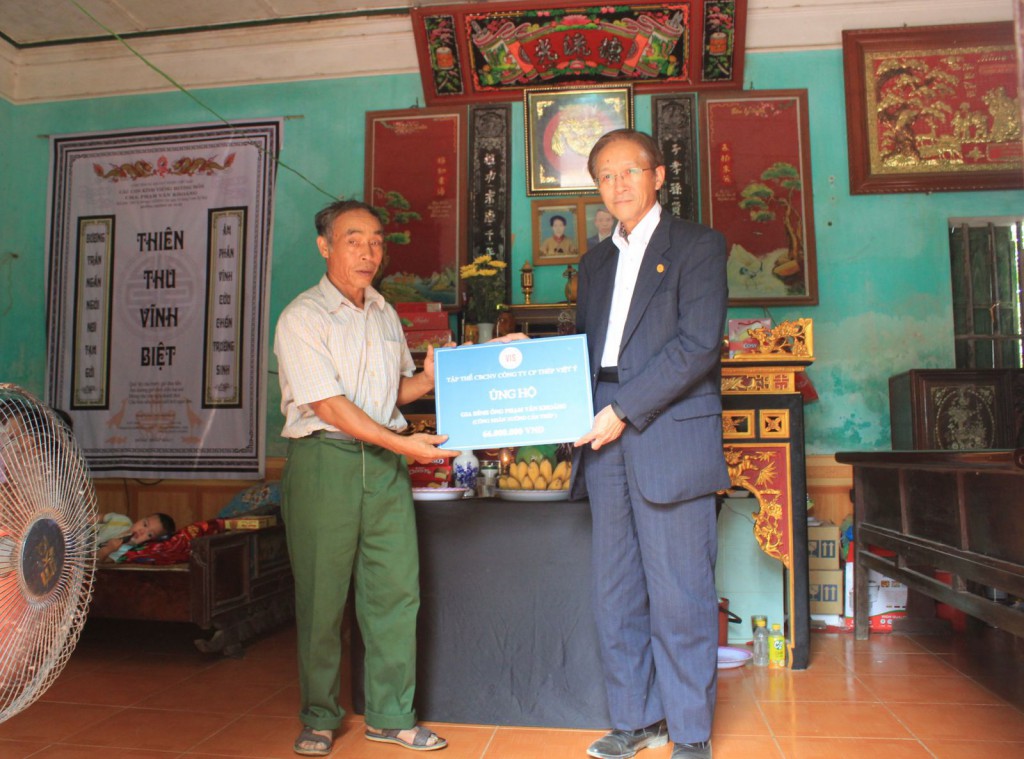 Mr. Yoichi Hoshino - General Director give VIS employee's supporting money to the family of Mr. Pham Van Khoang who is an union member of Steel Rolling workshop.   
Formerly a state-owned joint stock company, taking care to employees' material and spiritual life are always concerned by both BOD and Trade Union. Especially, since Vietnam Italy Steel JSC became a member of Kyoei Steel Group, this activity has been highly appreciated and concerned. As soon as taking over and managing company from August 2018, BOD who comes from Kyoei Steel Group has improved the working environment, stabilize employee's incomes, pay in full employee's insurance. Beside the compulsory insurance (Social insurance, health insurance, unemployment insurance), Company also sponsor voluntary insurance for all employees and has welfare policies for employees in cases of hospitality, maternity sickness, die, marriage…
With the deep concern of the BOD and Trade Union, the solidarity of all employees; human love and colleagues love has been multiplied, energizing the colleagues and their relatives overcome difficult circumstances.
PR News